In My Mother's House: Wrestling with God + Self in Lorraine Hansberry's A Raisin in the Sun (@theTable: "FSR Summer Book Club")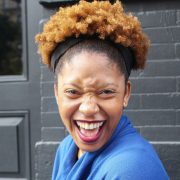 By Mia McClain.
"And then there are all those prophets who would lead us out of the wilderness—into the swamps!"

–Beneatha Younger, A Raisin in the Sun
Last November, I prepared a special dinner and excitedly sat down to watch the highly anticipated film version of August Wilson's play Ma Rainey's Black Bottom. Released on Netflix (due to the pandemic), Ma Rainey stars Viola Davis in the titular role and the late Chadwick Boseman as Levee. As a lifelong theatre nerd, I watched Wilson's work on screen with pride, not because I've always identified with his characters, but because I love Black Art—Black theatre—Black creativity, Black literature, for us by us. Now, as an actor turned minister, I've enjoyed paying attention to how Wilson shapes God through the lens of his characters. I think on how both Troy Maxson, the lead male character in Fences, and Levee, the lead male character in Ma Rainey, have intense monologues where they wrestle with God—their dreams deferred and with death in a world that keeps its knee on the Black man's neck.
Though I've seen many of his plays, I've struggled with seeing myself in Wilson's works. Ma Rainey and Fences overwhelmingly center men, and as a young woman actor, I grappled with where I could fit into those storylines. In both plays there are women in key leading roles who offer counter-narratives around shaping self, shaping God, and shaping life as Black + Woman (and, in Ma's case, same gender loving) living under the weight of systemic racism, sexism, and classism. Yet, in both pieces, these solo femme characters are surrounded by men who take up more dialogical space and whose theologies of suffering dominate the shaping of God. After viewing Ma Rainey in November, I decided to pick up Lorraine Hansberry's A Raisin in the Sun in an attempt to reconnect with a piece that centers Black Woman's shaping of God and of self.
A Raisin in the Sun was first presented at the Ethel Barrymore Theatre in New York City on March 11, 1959. Though it is not noted that Hansberry self-described as "theologian" or "feminist," she clearly explores feminist (and I may argue, Womanist) ideas throughout her works, and in Raisin, specifically, allows her characters to make explicit claims about God.
Raisin begins with a disruption of the status quo. The head of the household has died and the family is waiting on the $10,000 life insurance check to come in soon. They all have desires for this money, even though the decision ultimately belongs to Lena/Mama, the widow and matriarch. The morning before the money is to arrive, there are several tense conversations in the small apartment they share. Walter, Mama's son, embodies toxic masculinity in this conversation with his wife, Ruth:
WALTER: That is just what is wrong with the colored woman in this world…Don't understand about building their men up and making 'em feel like they somebody. Like they can do something.
Walter's anger-filled ramblings and shaping of self—which are similar to Levee (Ma Rainey)—do not dominate for long, for when Mama and his sister Beneatha enter the room they take hold of the naming of truths and the shaping of self/God. Here, Hansberry makes room for the diversity of beliefs that are often overlooked when discussing Black religiosity in this country. A college-aged Beneatha pushes back on her mother's notion of God:
MAMA: 'Course you going to be a doctor, honey, God willing.

BENEATHA: God has nothing to do with it.

…

BENEATHA: God is just one idea I don't accept…I am not going out and be immoral or commit crimes because I don't believe in God…It's just that I get tired of Him getting credit for all the things the human race achieves through its own stubborn effort. There is simply no blasted God—there is only man and it is he who makes miracles!

MAMA: Now—you say after me, in my mother's house there is still God. (There is a long pause and BENEATHA stares at the floor wordlessly. MAMA repeats the phrase with precision and cool emotion) In my mother's house there is still God.
As a young black girl who grew up in a Black church, I didn't know what to make of Beneatha's atheism at the time of my encounter with this play. I knew that, in every other way, I saw myself in her—her boldness, her refusal to fall into the boxes that both white and Black society had created for women, her eclectic interests in the arts, her intellectualism. I didn't pay her atheistic pronouncement much mind in terms of de\valuing it; but as I got older and smarter—"too smart for [my] own good" as some elders would put it—I began to see the back and forth between Beneatha and Lena not as a theological dispute but as an ideological debate that had as much to do with generational differences and access to wider intellectual frameworks than it had to do with God, herself.
I recall folks saying to me, "You know too much, child" when I'd rattle off some information about how Christians aren't more special than people of other faiths or about foolish myths perpetuated by white supremacist ideals. "You know too much, child," they'd say, a sort of Blackish colloquialism that is sacred and secular. Usually expressed when someone communicates a thought or opinion that falls out of alignment with the accepted ethos of a space, this phrase is uttered to silence the pronouncement as to not upset the status quo, and sometimes to underhandedly acknowledge the validity of thought, even if public appreciation will never be found in the larger community. Often, the radical thinking of anyone who falls into the "progressive intellectual/Christian" categories initiates this rebuttal and the person is quickly reminded that "in [their parent's house/church/community]," one must abide by a certain shaping of God and self. To depart from that shaping would mean a departure from the house.
Black feminist thought and womanist theology is that departure from the house. In her excoriation of her mother's belief system, Beneatha draws a blueprint for those of us who've had to leave our parent's houses, figuratively or literally, in search for truth and the freedom to shape ourselves the way we want to. This is especially true for my LGBTQ+-identified siblings who often leave for safety. For womanists, the departure was from the White-dominant feminist movements that routinely exclude(d) Black and Brown women, as well as a departure from the patriarchal ideals that dominate(d) Black liberation movements, both civil and theological. Furthermore, in womanist queer theologies, people are departing from heteronormative ideals, binaries, and much more. Beneatha embodies a womanish take on what W.E.B. Dubois describes as "the veil"—double consciousness"—the living between two worlds. She lives between two worlds—two faiths—at least two different ideas of who God is or isn't, and it goes beyond how those notions affect her blackness; it crosses into her womanness and smartness, as well.
Beneatha has taught me how to leave. Even in her staying, she teaches me how to leave, if only in my mind. For many oppressed groups, the first step for liberation is freeing the mind. I'm also awakened to how to respectfully seek liberation "in my mother's house" (though I would rather burn some houses down and build new ones). Lastly, what I enjoyed most about Beneatha's point of view is that she had one. It was made known in writing and through speech. In the same ways Levee and Troy wrestle with God, Beneatha wrestles too, proving that wrestling is not a masculine activity while the women docilly watch as silent spectators clutching their proverbial pearls. Beneatha, Black feminists, and womanish folks everywhere grant us permission to wrestle in our mother's houses, if only for a moment.
For more information on Black religious life in America, watch the new PBS documentary, The Black Church.
---
Mia is an artist, pastor and king cake lover. She currently serves as the Associate Minister of Faith Formation and Community Outreach at Myers Park Baptist Church in Charlotte, North Carolina, where she works to create and sustain a vibrant adult small group ministry, Sunday morning classes, and educational conferences, as well as coordinating and facilitating justice initiatives and community partnerships. Originally from New Orleans, Mia went on to obtain a Bachelor of Fine Arts in Musical Theatre from Syracuse University, a Master of Arts in Art and Public Policy from New York University—Tisch School of the Arts, and a Master of Divinity, with concentration in Psychology, Religion, and Homiletics from Union Theological Seminary in the City of New York. At Union, she was 2018 recipient of the Jonathan Kneeland Preaching Fellowship—awarded by Auburn Seminary—and the 2019 recipient of the Karen Ziegler Feminist Preaching Prize. This year, she is the recipient of the Duke Divinity Innovation Grant that will enable research and production around decolonizing liturgical practice and space. A licensed Baptist minister, Mia is ordained in the United Church of Christ and will serve as a liturgist and songwriter at the UCC's 2021 General Synod this summer. Prior to her call to ministry, Mia lived into her arts career fully, performing in theatres across the country, composing and executive producing projects, such as the Voice of Peace EP ('12).
---
Next: Christy Cobb, Feminist Hermeneutical Imagination in the Book of Longings
Back: Holly Hillgardner, A Stunning and Rewarding Transcendent Kingdom