Remembering (Which?) Women in Labor When Asking "What Would Jesus Buy?"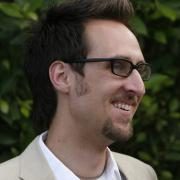 It's that time of the year again… yes, it is the beginning (or is it the middle already?) of the U.S. version of "the holidays." But, in a related fashion, what I'm currently thinking about is that time of the semester again. Specifically, we just finished our ritual week in my introductory course, a week in which we think about rites of initiation and holidays, the examples of circumcision and Passover, and contemplate what, if anything, these have to do with clips featuring Madonna, Bon Jovi, and Jim Gaffigan, among others.
Fittingly, in the fall versions of this course, this week almost always arrives fast on the heels of Thanksgiving and that other, distinctly American holiday, Black Friday, and smack in the middle of what we are told is the "shopping season." So, after reviewing a bit of Catherine Bell and Emile Durkheim, the political and social functions of ritual behavior, I ask students to respond critically to the opening sequence from the 2007 docu-comedic road trip movie "What Would Jesus Buy?" The movie follows Reverend Billy and the Church of Stop Shopping, as they travel the country challenging assumptions about gift giving and consumption in this culture, by enacting and adapting some of their own ritual behavior.
The movie's opening poses a kind of juxtaposition of commercialism and religiosity in the contemporary U.S. This juxtaposition lends itself to observations about how the frequently breathless invocation of the "free market" in current political discourse functions religiously, reflecting a kind of confidence in capitalism (in its particularly contorted present form) that is its own kind of faith. The movie's opening narration casts consumerism, though, in competition with Christianity, even suggesting that time in the mall has replaced worship. This fits with continuing anxieties that students also repeat, as people fret over the commercialization of Christmas, as it might relate to a somehow lost "true meaning" of this winter holiday (at least in this hemisphere). This concern reframes the so-called "War on Christmas" also trumpeted of late in some circles (a war which, by the way, Christmas has appeared to have won decades ago!). Still, happily and even inevitably, a student or two (and then i) also press the conversation to consider that this adaptation of religion to culture is not necessarily a problem. In fact, religious groups have always adapted themselves to changing contexts (if we had time to list and describe them, the syncretic assemblage that are "Christmas traditions" would make this all too clear to many gathered).
This key, late semester activity is a great opportunity to bring together several different threads of the course. (For instance, Reverend Billy's concern about a "shopocalypse" is a hilarious and yet serious adaptation of many ancient and not so ancient views of "the end" discussed earlier in the semester, with the help of ideas from Barbara Rossing's book.) As a teacher, I am frequently left with the feeling, though, that we could have always done more. If we had just gotten to one more point, if we had just found one more way to connect our concepts to scenes of religious practices and ideas, if I had just organized our time a little differently…
This feeling presses upon many of us teachers at this time of the year, by which I mean semester, as our sometimes too fleeting time with a group of students closes and panic, dread, and anxiety set in around final papers and exams (for all of us). And, yet, I have that nagging feeling, as a person with many commitments, especially feminist ones, that we didn't have enough time to press the conversation even further. And, if we did, what would we do, what would I say, or ask them to try? What's missing?
The answer isn't the sweet baby Jesus to whom Ricky Bobby likes praying grace, and that appears as the "reason for the season" in some holiday argumentation. What's missing is a further examination of gender and the roles of women in these rituals around gift-giving and season greetings. In this course I'm reconsidering, students are introduced to androcentrism as a problem from the opening unit, while women and gender are the focus of an entire unit in the middle of the course. So, the topic and some critical questions and serious reflections about it would hardly be out of the blue.
Of course, women's labor around the rituals of Thanksgiving and Black Friday, not to mention Hanukkah and/or Christmas, are required but seldom acknowledged (much like women's labor in many religious communities). The special foods that delineate this time as particularly special or even sacred are traditionally and still predominantly assigned to the realm of "women's work." With horror many cultural commentators have exclaimed about the encroachment of the Christmas shopping events dubbed "Black Friday" upon Thanksgiving. These events of endurance and rituals of competition have migrated closer and closer to the close of those Thanksgiving meals, moving as they have from a morose-enough Midnight special to starting even on Thursday evening or afternoon. Yet, seldom has anyone loudly protested that the bulk of this shopping will also be done by females in middle-class households, those people who just completed a marathon of cleaning, cooking, more cleaning, hosting, and then still more cleaning (since, despite all the (still-limited) advances in the workplace, domestic labor is still predominantly skirted by males and "falls" to the females).
This scene might be representative of many groups' gendered division of labor at this time of the year, but the picture I've painted thus far is an admittedly middle-class and U.S.-based one. It obscures how many women and other "feminized" groups will be required to staff those big-box retailers without correspondingly fair pay for their labor. Of course, Walmart's own wage and promotion discrimination practices against women are justifiably infamous for many feminist and labor groups, yet these are all-but-forgotten in wider circles. I am in broad sympathy with those people pinched from all sides trying to "make their dollar stretch" and show some affection to their loved ones in accordance with powerful rituals in our culture, even in the midst of economic austerity and its oversized impacts on all but the most economically insulated. Yet, this picture is still too fuzzy if we fail to highlight how poverty and other economic inequities disproportionately affect women and women-headed households (about this one thing, it appears, the recent Romney campaign was correct, though for reasons I think they can't or won't still acknowledge). As experts on both disparity and "development" agree, women make up the vast majority of the world's poor, though one likely doesn't need to look beyond your own town to see this, if you just looked.
Yet, greater attention to globalized dynamics demonstrates the persistent links between gender, labor, and economy. Many of those gifts and gadgets that are being stocked and then stalked by already squeezed constituencies were produced overseas in factory towns and assembly complexes that employ large numbers of women and young people, to minimize costs and maximize profits. Thus, many other unaccounted costs of this system are borne by those working and living in conditions that are constrained, to say the least.
Asking the question "What Would Jesus Buy?" was already a preposterous proposition (I mean, the child was born to Galilean peasants, folks! And to a woman bearing one conceived out of wedlock, to boot), but it is a question made more fraught by considering what and who are bought or doing this buying with/for you or I this time of the year. Happily, rituals provide occasions for many (but not always all of us) to pause and reconsider the order of our lives and what might be done differently. When Hanukkah begins, or Christmas actually comes, or even just as we consider the longer nights and colder days without the sun (in this hemisphere), the seasons provide moments for us to rethink our rituals. Such rethinking can mean doing things differently, not because we are restoring or even saving the "true meaning" of a holiday, but because we have always adapted our practices to the conditions of living. And we should. Addressing the conditions of gender and labor in economies intimate and international, on localized and globalized sites brings the promise of different adaptations. Let's hope it won't take a shopocalypse to make this happen.