Feminist Ethnography Inside and Outside the Field (@theTable: Parenting in the Field)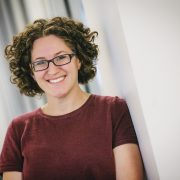 In the Fall of 2009, I began ethnographic research with Haredi (ultra-Orthodox) Jewish women in Jerusalem, looking into their reproductive ethics. Haredi women have the highest birth rate in Israel, around 6-8 children per lifetime, and they strictly adhere to religious laws, as dictated by their rabbis. I wanted to know how they made reproductive decisions in the technologically advanced Israeli medical system. A central piece of this research was interviewing women in their homes. Interviews lasted anywhere from 2-4 hours, and women were added to my study through snowball sampling.
---
It was six o'clock at night when I asked Devorah my last question.
Michal: "Do you have any friends who might be interested in participating in this research?"
Devorah: "Yes, actually! I'll call her right now."
I started packing up my things, making a mental list of the food I needed to pick up on the way home so that my husband and I could make dinner. We had been married for three years and enjoyed cooking elaborate meals together. This was before we had kids.
Devorah got off the phone with her friend.
Devorah: "Miriam would love to talk to you about her pregnancies, but she can only do it right now. She's giving her children dinner, and then putting them to bed. Maybe you can help her with that because her husband is at the Kollel [adult learning community], and then you can talk."
Michal: "That sounds great!"
Devorah: "But wait. Won't your husband get home soon from Kollel and expect dinner?"
Devorah knew I was married and that my husband studied in a Yeshiva, a religious learning community, but assumed, and I never corrected her, that our life was much like hers. As a married Haredi woman, she supported her husband's continued learning by working outside the home and performing all the domestic responsibilities as well. In our home, we shared responsibilities, supported each other financially, and my husband's Yeshiva was quite different from the one where Devorah's husband spent his time. Notably, my husband studied with women.
Michal: "Oh, it's OK. I thought I might be out late tonight, so I prepared something and left it for him in the refrigerator."
As I was saying it, I knew it was a lie, but at the time, I didn't know exactly why I lied. I thought I lied because I was afraid that Devorah would not want to be part of a research project where the researcher was the type of person who expected her husband to make his own dinner. I thought maybe she would tell Miriam about me and that would be the end of my evening of research.
But as I reflect upon that experience today, almost ten years later, I realize that I lied because I wanted Devorah to be my friend. The line between researcher and friend, even in those early months of ethnographic research, had already begun to blur. For instance, while I thought about the data I was going to collect by speaking to another research participant that night and observing Miriam in her home, Devorah and Miriam were thinking about how I could help them with childcare. The lines had to blur in order to create the kind of relationship that would enable me to conduct feminist ethnography. Feminist ethnography requires the forming of "kin-like relationships," according to Nandini Ghosh ("Doing Feminist Ethnography: Exploring the Lives of Disabled Women," 2012). This is because in feminist ethnography we self-consciously acknowledge that "the researcher herself is the primary medium" (21).
As I aimed to understand Haredi women's reproductive experiences within their religious, sociological, economic, and medical context, I immersed myself in the ethnographic setting and created trusting and vulnerable relationships with the women who participated in my study. Despite the fact that Haredi women have a high birth rate, they do not talk about their pregnancies to their friends or family members, partially because they are afraid that others will judge the choices that they've made. As I researched the reproductive ethics within this community, these were precisely the choices I wanted to understand. So I became a friend who would listen without judgment.
Unexpectedly, though, as I entered their homes and listened to them talk with confidence and conviction about their pregnancies and their lives as religious women, I reflected on my own life. It seemed like Haredi women had it all figured out. Although we were married for roughly the same amount of time, Haredi women successfully managed careers, marriages, and children. I felt inadequate and inexperienced. Saying I had already prepared dinner was aspirational. I wished I were the type of person who, like Devorah, thought of her husband before heading out to work. I aspired to embody the values of the Haredi women I interviewed, but I had also internalized an American "superwoman" virtue. I wondered if, when I had children, I would also be able to balance the various facets of my life. I was experiencing a sort of crisis of identity, which Renee Fox argues is not uncommon among fieldworkers (Fox, "Observations and Reflections of a Perpetual Fieldworker" 2004). Immersed in someone else's values about family, religion, career, and children, I began to question my own. Although I anticipated my participants' vulnerability and worked to protect it, I overlooked my vulnerability.
Since returning from Jerusalem, completing my dissertation and revising it into a book, I have continued to think about the women who participated in my study. During this time, I have been pregnant four times and given birth to three children, experiencing what Lila Abu-Lughod calls the "double life" of an anthropologist ("A Tale of Two Pregnancies" 340). My experiences of pregnancy have been a combination of the cerebral, medicalized, scholarship-rich life that I generally lead, and the aspiration towards embodied authority among Haredi women in Jerusalem. Haredi women do not rely on their male rabbis for prenatal advice, and they decry the hyper-medicalized context that overlooks their own experiences of pregnancy. As a feminist researcher, this was an exciting finding, but during my first two pregnancies, I thought their rejection of medical knowledge was also very dangerous.
But when I became pregnant with my third child, I finally understood why this embodied authority developed among these women during their third pregnancies. During my 24-week appointment, I told my nurse practitioner that I would be away for the summer. I asked if she wanted me to set up appointments with doctors near my research site in New York. "No," she said as she shrugged. "You've done this before. You will know if something's wrong. And if it is, just go to a doctor or the hospital then." I could not believe it. As someone with a blood-clotting disorder, my last two pregnancies had felt like the most carefully tracked pregnancies of all time, and this one was being entrusted to me alone.
For the first time in a long time, I thought about Sara, a Haredi participant, who didn't even see a doctor during her third pregnancy until she was in her last month. And I was reminded of another interviewee, Tamar, who went to the doctor but ignored everything he said because, as she said, he didn't really know what was going on in her body. As I looked over my research notes, I realized that at the time I was critical of these choices. I thought these women were making unsafe decisions based on their unwillingness to involve their rabbis and doctors in their reproductive lives.
Over the ten years of this project, my research participants continue to influence me in unexpected ways. Along with my own life changes, Haredi women have taught me that as an embodied experience, pregnancy invites a certain amount of authority that poses a deep challenge to other ways of knowing. They've also helped me to realize the complexity of the ethnographic relationship. I would like to think that now I would have the confidence to tell Devorah the truth about dinner that night, but the relationships we build as ethnographers remind us that we as researchers are also being watched, judged, and analyzed.
---
Michal Raucher is a co-editor of EFSR and an Assistant Professor of Judaic Studies at the University of Cincinnati. Starting in the Fall of 2018 she will be an Assistant Professor of Jewish Studies at Rutgers University. Her book, Birthing Jewish Ethics: Reproductive Ethics among Haredi Women in Jerusalem, is under contract with Indiana University Press.
---
Next: Katherine Dugan, "Navigating Ethnography as a Divorced Single Mom" (Part 2)