Theoëroticism: If This Body Wasn't Alone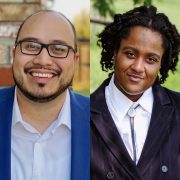 By Jacob Perez and Zebulon B. Hurst.
The escalating spread of COVID-19, the ways it has disrupted and transformed our communication and interactions with one another, reveals eschatological dimensions within our responses—our spiritual and embodied desires. Prayers for an end to the pandemic are filled with yearning, longing for a time when it will be safe to embrace and touch once again. Not surprisingly, the urgent needs for medical intervention and intimate connection have led to radical shifts in political governance, social dealings, and spiritual practice. In this piece, we briefly explore the creative and disruptive potency these desires and their eschatologies contain for theological re/articulations of our interconnectedness. We offer a term, theoëroticism, to speak of the sacred energies, imaginations, and incarnations from which new litanies of regeneration can emerge. Our approach is a contemplative mix of poetry and reflection, grounded in the transgressive frameworks of queer theology and the relational methods of ecofeminism, meant to foreshadow ever-widening approaches to scholarly theological reflection.
Yohana Junker's prophetic invitation for the "regeneration of all our relations" calls forth a deep hopefulness amidst the crisis of COVID-19 and welcomes readers, through a brilliant array of images, into her meditations of "breathing-being-praying."[1] These examples synthesize mind, soul, and body—the heart frequency from which Junker creates her mesmerizing dance of lines and letters—into a glimpse of transcendent possibilities in faith. We can almost sense we are in the room with her as she writes aloud. In our collective work of regeneration and healing, how can we re/create this feeling of presence beyond proximity, especially as the news around COVID-19 continues to exacerbate our feelings of physical separation? Most of the answers to this question are yet to be experienced, and our goal is to offer a sample of our own heart frequencies in reverberating solidarity with "our relationships to each other, our subjectivities, and the earth."
proximity.[2]
if it helps to know that the love shared between comrades

cannot be squelched by distance or silos—

those means which before were arbitrary and now necessity—

then know that this different world we've been

told is possible is being made by your presence.

yes,

even in the space between us, in those virtual rooms,

or on media deemed social in which

our bodies ache for the touch, the smell, the embrace of each other,

know that your presence and your words and your actions

abound.           with.                purpose.

the arms of solidarity reach further than the lies of capitalism,

and the hope that you embody stands firmer through every trial.

until we touch again,

-we
presence
i.

 if this body wasn't alone

 if it              could touch another

           body if my 

           body got to hold your

           body because it is my

           body too we belong

to each other

ii.

the moon sprints across the sky

+ wails outside my window

on your behalf

neither of us can be consoled

we do not comfort each other

O Blessed Mirror

show me how to be merciful:

my mind is all knives from twilight

until dawn

iii.

last week your camera stopped working

but not your mic

your tears echoed in the empty space within my belly

i want to tie rope from your waist to mine

to keep you from leaping off the ledge of the world

is there a free masterclass for that?

all prayers have left me unless they are desperate

simple enough to say while cooking the last two eggs

i hope i live

i hope we all live

iv.

i Dream the world is all calm water

                                  all purple mornings

the Sun a ripe fruit just beyond reach

there is no incarceration

            no apartheid occupation

            no stock market

            no military

            no separation

the fabric of Time loses its pleats

in a basin that smells of rosemary + cedar

We rest.

We rest.
theoëroticism
The yearnings held deep inside our bodies and souls for one another during separation is fertile ground. We can root our spiritual practices in that rich soil we identify as theoëroticism—that is, a way of knowing the Divine as erotic and life-giving, creative energy. Speaking from within—but not exclusively to—the Christian faith, Jay Johnson reminds us that longing "for an end to loneliness" is intrinsic in the divine love-energy, eros, that created the world.[3] What world might we create in our striving to end the way "things were," already fragmented and isolating? What communities of hopefulness, walking the path of religious biodiversity that Ivone Gebara envisions, will religar, re/link, re/bind bodies in the NOW to a whole sense of self, each other, and the planet? How will we rise above patriarchal rubrics of denominational categorization?[4] What theoërotic songs, prayers, confessions, homilies, and symbols of deep desire await to spring up amidst virtual spaces?
do you Lack me? yes/no/maybe[5]
my ancestors wore loaves of bread in the snow

survived on bone marrow, neckmeat

+ now my country cages children who wish to die.

do you "need to avoid aloneness" as you count the kitchen tiles?[6]

we are so far from the past space 

even if Time continues to collapse.

yesterfuture finds me leaning into instability

submerged + exposed

by a 'disorder' continually

called an illness

my mind is no more perverse 

than a waning harvest moon

the libertine is amongst + within us[7] as is the divine

— and what is the difference between the two?

isn't all holiness just as embodied as my Beloved

who will someday sleep again

between these worn flannel sheets?

Desire is embroidered

across my abdomen

tight threads of lack + envy 

                     of terror + bliss

                     of spectacle + the fools we are.

i am on my belly in the deepest furrow of love

+ digging deeper with this soup spoon

soon it will just be my nails, my teeth

clearing away darkness until the brighthot core

melts my face off[8]

i want to hold you close to me

your back against my chest 

my hand encircling your wrist before you roll over 

to kiss me.

even here

as the thicket remains 

empty of rams

i wish there was something 

that could be done for the sake of holding all of us in tandem

with arms that never carry weapons except to protect

the Vulnerable.

what do we do to close the valve?

do we throw up our hands + pray? praise? Surrender?

what is saved is what never took place.[9]
---
[1] Yohana Junker, "Covid 19 and the Mandate to Regenerate All Our Relations," https://www.fsrinc.org/covid-19-and-the-mandate-to-regenerate-all-our-relations/.
[2] Jacob Perez, Mar 31, 2020, in response to a localized and radical redistribution project of income and resources.
[3] Jay Emerson Johnson, Divine Communion: A Eucharistic Theology of Sexual Intimacy (New York: Seabury Books, 2013), 50.
[4] Ivone Gebara, Longing for Running Water: Ecofeminism and Liberation, trans. David Molineaux (Minneapolis: Fortress Press, 1999), 205-12 and translator note on 222, with gratitude to Yohana Junker for further explanation.
[5] Zuriel Biran, "they moved me" (In the author's possession, 2020).
[6] Erich Fromm, Escape from Freedom (New York: Farrar & Rineheart, 1941), 19.
[7] Marcella Althaus-Reid, The Queer God (London: Routledge, 2004), 26.
[8] Zebulon Hurst, March 16, 2020, in response to statements about love poems and sweets.
[9] Althaus-Reid, The Queer God, 138.
---
Jacob Perez (he/his) is spurred by the possibilities of agitating and re/imagining our religious traditions and practices, especially within an emerging postPentecostalism. For that reason, he is a graduate student in the Theological Studies program at the Pacific School of Religion in Berkeley and a Co-Chair of the Latinx and Latin American Religions Unit for the American Academy of Religion Western Region. Jacob also serves on the Board of Directors for the AARWR as the Student Representative of Northern California. 
Zebulon B. Hurst (He/Them) is a Master of Divinity student at the Pacific School of Religion in Berkeley, California. His work weaves together queer intimacies, pleasurepain, somatics, and poetics. They received a BA in French and Francophone Studies from the University of Illinois at Chicago. He was a Newberry Library Undergraduate Scholar and a recipient of the Liberal Arts and Sciences Undergraduate Research Initiative (LASURI) at UIC. Their continued research explores manifestations of fissure, domination, and self-sublimation. Hurst authored a chapter in the 2017 volume edited by Anthony J. Nocella, II and Erik Jeurgensmeyer Fighting Academic Repression and Neoliberal Education: Resistance, Reclaiming, Organizing, and Black Lives Matter in Education (Peter Lang).