Are Scholar-Activists Welcome in the Academy?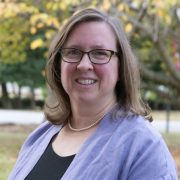 By Rebecca Todd Peters
People enter the academy for a variety of reasons. Some of us love books and learning and see the academy as an avenue for life-long learning; others are passionate about a particular area of knowledge and inquiry and desire nothing more than to talk about it with others who share their passion; some colleagues of mine are gifted teachers who seek to open the minds of young people or to help them develop their intellectual curiosity; one colleague even told me years ago that he wanted to "be famous."
My route to the academy came via the church and advocacy work that I did on behalf of women at the national office of the Presbyterian Church (USA) prior to entering seminary. I had read some feminist theory in college and discovered Rosemary Radford Ruether's work on my own. After college I had no idea what I wanted to do with my life until I came across a job ad in a mission volunteer newsletter that read, "One person to work for the eradication of sexism at all levels of the church." Wow, I said to myself, I want to do THAT!
As I worked with the Justice for Women office of the PCUSA over the next two years, I read much more deeply in feminist theology and feminist theory while I simultaneously practiced and developed my skills as an organizer and an activist. I recognized that my own interests in challenging the normative ideological paradigms that shape human culture and economic and political systems was deeply informed by my experience of working with, listening to, and developing relationships with people whose voices were not influential either in the academy or the public policy arena. I decided to pursue a Ph.D. and to enter the academy because it seemed like a meaningful place for me to be able to participate in the critical discourses that shape theology and public policy in our world.
In a recent blog post, Kate Ott asked the important question "Should Ethicists Be Activists?" As you can see, I was an activist who became an ethicist. Ott thoughtfully expressed the very real challenges that junior scholars face amidst the very real struggles to publish, engage in teaching excellence, and serve their universities through a variety of time-consuming activities. As a tenured, full professor, I recognize that my position is different from my junior pre-tenure or contingent colleagues. But, I too traversed that terrain and know it can be done. But I do wonder for how much longer?
Theology and ethics are normative disciplines centered in asking questions about what people of faith can or should believe and how they ought to live in response to or as an expression of their beliefs. There are some in the academy, specifically the American Academy of Religion, who believe that this sort of normative work is neither scholarly nor academic and that it does not belong properly in the category of the "study of religion." I have often joked with friends that the study of religion is changing so rapidly that while many religious studies faculty are happy to teach Luther or Calvin or Bonhoeffer – they wouldn't hire them on their faculties. Increasingly, normative scholarly work is relegated to seminary faculties. This debate has been ongoing in the AAR for a number of years and has been the subject of Presidential Addresses on several occasions (Margaret Miles [1999], Robert Orsi [2003], Ninian Smart [2000], emilie townes [2008]). Nevertheless, there seems to be an increasing attitude that excellent scholarship in the field is historical, objective, comparative, or social scientific – not normative.
If these shifts are, in fact, happening, then junior scholars and graduate students need to think even more carefully about Ott's question "Should Ethicists Be Activists?"
Obviously, this question largely depends on one's institutional context and individual scholars ought to think carefully about their scholarly identity and their professional and vocational goals as they navigate the job market. A task that is increasingly difficult in the context of an increasingly contingent faculty workforce.
Aside from the personal question that many of us ask about whether or not we can individually develop a meaningful identity as a scholar-activist, there is a larger question implicit in Ott's query – What is the role of normative work in the field of religious studies?
As an ethicist whose work is oriented by the pursuit of social justice as informed by the Christian tradition – all of my scholarly work is oriented toward social change. The most important thing I try to teach my students about social change is that it requires broad swaths of people situated across society working to contribute to social change in multiple varied ways in order for true social change to happen. In other words, we don't all have to work for advocacy organizations to be activists or to participate in the important work of social change. In fact, social change only happens when cultural ideas shift broadly across society and there are endless ways people can contribute to that process.
Academics have an enormously important role in helping to examine and rethink cultural and social problems and work to develop new ideas, solutions, theories, and strategies that can contribute to addressing the root causes of many social problems. This work requires time. Time to read, to think, to write, to talk, to engage with others as our ideas percolate and mature. Time for them to be presented, discussed, critiqued, and refined. This is also the work of scholarship and academic posts afford scholars the time and resources they need to do this important activist work.
If we continue to close off the field (through our hiring and publication processes) to those scholars who are engaged in reimagining theology and developing challenging new responses to social problems rooted in our faith traditions – we are engaged in an epic failure of recognizing and respecting the diversity of ways in which scholarship is happening within the field of religious studies. We risk compromising critical, informed, and intellectually provocative new thinking within religious traditions. And we risk creating a system where it is increasingly difficult for ethicists (and other scholars) to be activists.
---
Rebecca Todd Peters is Professor of Religious Studies at Elon University. Her work as a feminist social ethicist is focused on globalization, economic, environmental, and reproductive justice. Her most recent book is Solidarity Ethics: Transformation in a Globalized World, she blogs at rebeccatoddpeters.com.