Teaching As Feminist Collaboration; Teaching Feminist Collaboration
By Sara Ronis.
Though Hollywood movies often portray teaching as the solitary work of (usually) male geniuses,[1] teaching is a collaborative project. It is collaborative within departments and schools, and across the wider world available through the internet. Emily O. Gravett and Lindsay Bernhagen have noted that collaboration is a "defining feature of feminist practice." [2] They go on to root this feature historically: "As far back as 1970, when the second‐wave feminist movement was gaining traction, Robin Morgan wrote in the foundational anthology Sisterhood is Powerful, "The women's movement is a non‐hierarchical one. It does things collectively" (1970, p. xviii)."[3] For me, teaching students to read biblical texts carefully and critically is deeply interconnected with the feminist practice of pedagogy.
I've taught a course on "Images of Women in the Hebrew Bible" twice at the same institution. This course engages deeply with the construction of "womannness" and gender in the Hebrew Bible by focusing in on particular female characters and their histories of interpretation. The first time I taught the course, I was inspired by a classroom activity shared by Dr. Shari Rabin on Facebook, who uses the modern genre of Twitter conversations to imagine interactions between disparate historical figures. I decided to include an activity in which students tweeted at each other in character when I taught the story of Esther and Vashti. In the biblical book of Esther, King Ahasuerus deposes his wife Vashti for disobedience. A search is then begun for a new queen, and the young Judean girl Esther is chosen. Most students had never encountered the story before, aside from a few who had seen a Veggie Tales dramatization of the story.
After pointing out the ways that these women are never in the frame of the story at the same time, I asked my students, in groups, to reconstruct what a conversation between these two powerful women in biblical literature might have looked like via Tweet. I used a Word template of a Twitter page that Shari graciously shared with me, so as not to open up students to online harassment, and let the students get to work. Observing the students, two things were immediately obvious: First, that students found this activity tremendously fun; and second, that students imagined Vashti and Esther almost exclusively fighting over the love and attention of Ahasuerus. The assignment ended up reinforcing this limited understanding of the rich lives of women in power, rather than challenging it, and so, while I liked the format, I knew I needed to rethink my framing of the activity the next time I taught the course.
As I prepared to teach the course for a second time, I again turned to Facebook and asked colleagues to suggest relevant readings.  Dr. Caryn Tamber-Rosenau suggested I look at Dr. Renita Weems' chapter, "A Crown of Thorns (Vashti and Esther)" in her 1988 book Just a Sister Away. Weems argues that Vashti's actions and punishment in the Book of Esther are "a memorial to the price often extracted of public women when they step outside of their prescribed roles" (103). In Vashti's challenge to her prescribed role, Weems suggests that Vashti paves the way for Esther, who also challenges her prescribed role but is met with success and acclamation.  I decided to have students read this chapter before the day we discussed the Book of Esther.
Student Tweet Threads, 2016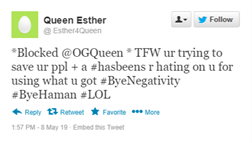 I opened class by having students unpack Weems' argument and the examples that she cites. Students were surprised by Weems' analysis of Vashti – many of them reported not having paid Vashti much attention in the reading, because they "didn't think she was important." Then, once again, I divided students up and asked them to imagine what a conversation between these two women would have looked like if it took place on Twitter.
I would be lying if I didn't note that one group wrote a twitter thread much like those the year before, in which the two women fought over a man. But the overwhelming majority of threads were really quite different. They depicted a younger woman seeking advice from an older woman, or two women sharing information and working together to fix injustice. The center of gravity shifted from Ahasuerus to the women themselves – their goals, experiences, and strategies. Our conversation afterwards shifted the discussion to think generously about trailblazing women, and the ways that media narratives of all sorts are uncomfortable with, or outright resistant to, these women and their diverse performances of "womanness."
Both the genesis of this assignment, and its current manifestation in class, testify to the power of this type of feminist collaboration in the classroom and in my own teaching practice. And to be honest, I can't imagine how I would have taught in the days before social media. Like so many professors, I am one of a handful in my city who do what I do. But my community does not feel small because I am part of a robust online community of scholar-teachers who respond to questions and share possible readings and course activities. Naming these practices and creating space for students to recognize feminist collaboration in sacred texts and in their own lives are profoundly important and profoundly feminist acts.
Student Tweet Threads, 2018
---
[1] Films such as Stand and Deliver (1988), Coach Carter (2005), and The Ron Clark Story (2006). The same pedagogical model can be seen in Dangerous Minds (1995), though this time the trope is flipped to focus on a solitary female teacher.
[2] Gravett, E. O. and Bernhagen, L. (2018), "Ways of Doing: Feminist Educational Development." To Improve the Academy, 37: 17-29. doi:10.1002/tia2.20068
[3] Ibid.
---
Sara Ronis is an assistant professor of Theology at St. Mary's University in San Antonio, TX. She works on demonology, identity-formation, and legal thinking in late antique rabbinic Judaism.