Womb Energy and Erotic Justice for Women and Girls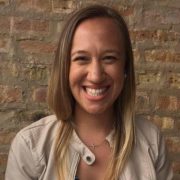 By Karen Ross.
As a Catholic adolescent girl, I received many messages both implicitly and explicitly about my body and my sexuality. I noticed from an early age that within my Catholic cultural environment, touching or even talking about your genitalia and reproductive organs as a young woman was inappropriate, and even dirty, especially outside the context of marriage.[1] Now, as an adult and Catholic feminist ethicist, I am uncovering how these messages impacted my relationship to my body, and how they continue to affect the sexual education of young women and girls.
The other day, I experienced a Mayan Abdominal Massage for the first time. I had heard about this ancient practice through an online women's healing circle I was a part of, and wanted to try it in order to connect with this part of myself. The exposure of my belly felt vulnerable as I laid on the table, but I soon felt comfortable with the healer's gentle and calming touch. As she moved her hands in a gathering and cupping motion from my pelvic bone all the way up to my solar plexus (the area right under the sternum), I felt the most intense sensation—like tingling—move up my body and release. The intensity of the feeling almost took my breath away. I wondered how, after years of education in Catholic Feminist Theology and Ethics, this was the first time I had truly become aware of the powerful emotions I held in my abdomen and womb.
The disassociation from my womb and the lack of understanding I had about this life-force within me brought me to tears. I realized that the hegemonic patriarchal culture—the water in which I was swimming—had helped to silence and control any conversations surrounding this powerful seat of wisdom and creativity. Drawing from my particular experience in a Catholic environment, I wondered if other women raised within the Church felt the effects of this silence too (especially those who have not birthed a child), and if it was being passed down to young women and girls.
Within a woman's womb lies the creative power of life-force, or Eros. While not necessarily always referring to sex and sexuality, Eros is a metaphysical and spiritual desire that can include sexual energy and any other creative instinct that brings vitality.[2] In her famous essay "Uses of the Erotic: Erotic as Power," Black Queer Feminist Audre Lorde argues that Patriarchy has co-opted women's erotic power and used it to benefit its own reigning structure—a structure largely controlled by white, cisgender, heterosexual men. In order for this oppressive structure to perpetuate itself, Lorde explains, it must "corrupt or distort those various sources of power within the culture of the oppressed that can provide energy for change."[3] Thus, women have been conditioned to repress the erotic power within our wombs, to "fear the YES within ourselves, our deepest cravings."[4] I didn't realize that within my own lived experience as a Catholic feminist, I too had suppressed this vital and creative part of myself in order to a "Good Catholic Girl," separating my soul from my body.
Throughout my doctoral research studying the sexual education of Catholic young women and girls, I noticed the not-so-subtle rhetoric surrounding female sexuality within the Catholic sexual education manuals I reviewed. Laced with benevolent sexism—women giving selflessly always for the benefit of the other—many of the texts discussed female erotic power with warning at best, and suspicion and condemnation at worst. The elementary and high school manuals warned young women to dress and act modestly, controlling or denying their own sexual energy, lest they lead young men into temptation and lust. There have been many discussions about this rhetoric in other Christian denominations; for example, Linda Kay Klein speaks about the damaging effects of evangelical purity culture in her new book, Pure.
One high school level Catholic sexual education workbook I reviewed instructed young women to "dress and act in such a way that helps young men see her as a person," and to be careful not to walk, stand, or dance in certain ways that invite lustful thoughts from others. This is especially important, the workbook notes, since boys' feelings and desires can be "so quickly aroused." When young women and girls are so worried about their bodies and the way that others will interpret their Eros, surely they aren't able to nurture and develop a healthy appreciation of their womb, their sexual pleasure, or their life-force. Furthermore, this unique form of victim-blaming puts all of the responsibility on women and girls to not only control their own erotic power, but to do so for the benefit of men and boys.
Carter Heyward, a frontrunner in the movement to elevate Eros within Christian theology and ethics, defines Eros as "the divine Spirit's yearning, which is our most fully embodied experience of God as love."[5] Here, Heyward is making a radical claim that the erotic is not something separate from or antithetical to our experience of the divine, but rather the most fully embodied experience of the divine that humans can have. So, when I experience all of the emotional intensity and creative power in my womb, both inside and outside of reproduction, I am encountering the divine. This embrace of Eros as the human's experience of the love of God stands in opposition to Christian taboos about sex and sexuality as being something that can hinder or block a divine encounter, especially for women and girls.
Insofar as the body is a site of divine presence (seen most definitively in the Incarnation), women must see their wombs and erotic energy as a sacrament. Motherhood is only one aspect of this process. We must teach young women and girls to feel the pleasure, pain, sadness, and creativity that is bubbling up from their pelvic bowl and their sexual organs and greet these sensations as teachers, not as shameful enemies. Rhetoric surrounding modesty or "covering up" should be replaced with messaging about guarding your erotic power against those who will drain it, or abuse it. This concept is what Christian ethicist Karen LeBacqz calls "appropriate vulnerability" for girls.[6]
At a Ceremonial mass on the Feast of the Immaculate Conception at the University of Dayton, Marianist priest Fr. Joseph Tedesco (affectionately referred to as Fr. Teddy) loudly declared, "There is POWER in the woman and JUSTICE in the womb!" As an undergraduate, I didn't fully appreciate the radical message behind his homily—that Mary's "YES" was simultaneously a "yes" to God and her own erotic power which she realized within herself. May we have the courage to swim in the wombey complexities of our sexuality and demand erotic justice for women and girls who have yet to dig deep into the erotic within.
---
[1] As a feminist who understands "woman" as socially constructed identity, I acknowledge that not all women have wombs (i.e. trans women, or women who have had their wombs removed).
[2] Irving Singer, The Nature of Love: The Modern World, vol. 3, The Irving Singer Library (Cambridge: MIT Press, 2009), 99.
[3] Audre Lorde, "Uses of the Erotic: The Erotic as Power," in Sister Outsider: Essays & Speeches (Trumansburg: Crossing Press, 1984), 53.
[4] Lorde, 57.
[5] Carter Heyward, Touching Our Strength: The Erotic as Power and the Love of God (San Francisco: Harper & Row, 1989), 99.
[6] Karen Lebacqz, "Appropriate Vulnerability: A Sexual Ethic for Singles," The Christian Century 104 (May 6, 1987): 436.
---
Karen Ross is a Visiting Assistant Professor at Marquette University. She studies Catholic Feminist and Sexual Ethics. Her doctoral research uses ethnography to uplift the experiences of Catholic young women in their sexual education.